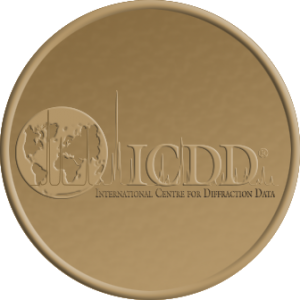 Fellow
The designation of Fellow is awarded by the ICDD Board of Directors to individuals who have given their time and talents beyond that normally associated with membership.
Selection Process
Nominations are solicited from the ICDD membership. Candidates must have served a minimum term of two years in one of the following positions: Board Director, Technical Regional Co-chair, Committee Chair, Technical Subcommittee Chair, or leader in a noteworthy ICDD activity. The Awards Committee reviews the nominations and recommends Fellow candidates to the ICDD Board of Directors.
Award Presentation
The Fellow Award is presented at the ICDD Annual Meeting of Members in March of each year or a suitable meeting. The award consists of a commemorative plaque, and the recipient's travel expenses to the meeting, in accordance with ICDD's Travel Policy.
Submission Process
Nominations of candidates may be submitted by ICDD Members to the Chairman of the ICDD Awards Committee (see below) by completing a Nomination Form. In addition to the nomination form, the candidate's curriculum vitae must be sent via e-mail to awards@icdd.com.
Chairman, ICDD Awards Committee
c/o The Corporate Secretary
International Centre for Diffraction Data
12 Campus Boulevard
Newtown Square Corporate Campus
Newtown Square, PA 19073-3273 U.S.A.
Fax: 610.325.9823
E-mail: awards@icdd.com
Ron Anderson
John Anzelmo
Larry Arias
Davor Balzar
Peter Bayliss
Detlef Beckers
Lawrence Bernstein
Richard C. Bostwick
Allan Brown
Xiaolong Chen
James Cline
Cyrus E. Crowder
Graciela C. D. de Delgado
Jose Miguel Delgado
Robert E. Dinnebier
Alwyn Eades
Timothy G. Fawcett
Gerhard R. Fischer
C.M. Foris
Mary F. Garbauskas
John Getty
Herbert Goebel
Gregory P Hamill
Richard L. Harlow
George J. Havrilla
Bob He
Helein D. Hitchcock
Takashi Ida
Nobuo Ishizawa
Howard Jones
Peter Lee
Matteo Leoni
Shao-Fan Lin
Lizhi Liu
Charlotte Lowe-Ma
Toshmichi Matsukura
Isaac P. Mayer
Bill Mayo
Andrew M. McDonald
Ronald C. Medrud
Julian Messick**
Scott T. Misture
N. Sanjeeva Murthy
Monte C. Nichols**
Robert Papoular
Andrew Payzant
Vanessa Peterson
Jeffrey E. Post
Charles Prewitt
Susan Quick
David Rafaja
David F. Rendle
Mark Rodriguez
Jordi Rius
Earle Ryba
Ann Sabina
Paolo Scardi
Walter N. Schreiner
Carlo Segre
Roman Shpanchenko
Joseph V. Smith**
Scott Speakman
Gregory A. Stephenson
Matthew Suchomel
David J. Taylor
Harry G. Thielke**
Brian Toby
Hideo Toraya
Thomas Watkins
Bryan Wheaton
Pamela Whitfield
Fred Wireko
Winnie Wong-Ng
Shawn (Xiaotian) Yin
R.A. Young**
Mary Ann Zaitz
Peter Zavalij
Leo Zwell**
SUBMISSION DEADLINE
Submissions must be made by 1 October for the next year's award.