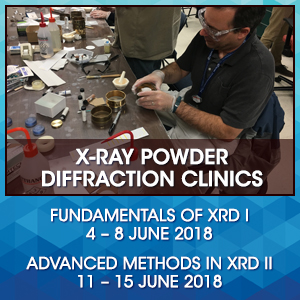 X-ray Powder Diffraction Clinics are divided into Fundamentals (3-7 June 2019) and Advanced Methods (10-14 June 2019).
Employees from some of the nation's most prominent businesses, corporations, government agencies, laboratories and academic institutions participate in the ICDD's clinics and workshops.
Purpose
During the past seven decades, the use of X-ray analytical methods has seen continued growth in the areas of materials characterization and phase identification. Over the years, the development of procedures, techniques, and advanced equipment have greatly enhanced the versatility of the method.  The purpose of the X-ray clinic is to provide participants with a fundamental understanding of the theoretical basis as well as the practical application and implementation of powder diffractometry in today's laboratory.  This knowledge and understanding is applicable whether the attendee works in academia, industry, or government laboratory, or whether they are a student, professor, researcher, or analyst.
Scope
The clinic is presented in two separate week-long sessions, each of which stands alone as a complete course. Session I, Fundamentals of X-ray Powder Diffraction, is directed to both relative newcomers in the field and to more experienced users wishing to broaden their understanding of fundamental concepts and established procedures. The major emphases of Fundamentals of X-ray Powder Diffraction are the acquisition of reliable experimental data and qualitative phase identification using both manual and automated search techniques. Session II, Advanced Methods in X-ray Powder Diffraction, is designed for the experienced user and focuses on computer-based methods of qualitative and quantitative phase analysis, as well as crystal structure analysis and refinement. For maximum benefit from the Advanced Methods in X-ray Powder Diffraction, the ICDD Clinic faculty strongly recommends that students have previously attended Session I.