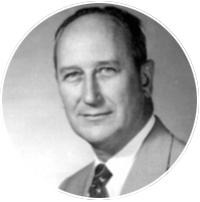 The McMurdie Awards
  Honoring Howard F. McMurdie (1905-2004)
Howard began his 75-year, scientific career when he joined the National Bureau of Standards (later NIST) in 1928. His research interests included measurements of phase equilibria and reference X-ray powder patterns, and characterization of solid-state materials. Howard is credited as one of the founding fathers of the ICDD, (then the Joint Committee on Powder Diffraction Standards) in the late 1930s. He established an ICDD Research Associateship at the National Bureau of Standards in the Crystallography Section. For more than 30 years, this Associateship, under his guidance and leadership, prepared a broad set of important, accurate, and widely-used experimental powder diffraction patterns.
McMurdie Award
This award is named in honor of Mr. Howard McMurdie, long-time editor for ceramic and nonmetallic inorganic materials in the Powder Diffraction File™. The purpose of the award is to recognize distinguished work that improves the PDF's ability to identify and characterize materials. The McMurdie Award is presented biennially.
Selection Process
Awardees are chosen by the McMurdie Award Selection Committee, which is comprised of past recipients. Nominations are solicited from the ICDD membership and circulated to the Selection Committee for consideration.
Award Presentation
The McMurdie Award, presented at an appropriate powder diffraction/crystallographic meeting, consists of a commemorative plaque, a gift of $1,000, and the recipient's travel expenses to the meeting, in accordance with ICDD's Travel Policy.
Submission Process
Nominations of candidates may be submitted to the Chairman of the McMurdie Award Selection Committee (see below) by completing a Nomination Form. In addition to the nomination form, the candidate's curriculum vitae must be sent via e-mail to awards@icdd.com.
Chairman, McMurdie Award Selection Committee
c/o The Corporate Secretary
International Centre for Diffraction Data
12 Campus Boulevard
Newtown Square Corporate Campus
Newtown Square, PA 19073-3273 U.S.A.
Fax: 610.325.9823
E-mail: awards@icdd.com
SUBMISSION DEADLINE
Submissions must be made by 15 August for the next year's award.