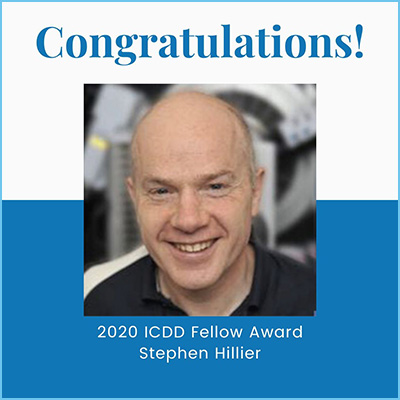 Stephen Hillier – ICDD's 2020 Fellow
The International Centre for Diffraction Data (ICDD) is pleased to announce that Dr. Stephen Hillier of The James Hutton Institute (JHI), Aberdeen, Scotland, UK, has been designated as an ICDD Fellow. Steve is the ICDD's Regional Co-chair for the UK and Ireland. He is the de facto expert within the ICDD on clays, and is the Chair of the Clay Minerals Task Group of the Minerals Subcommittee.
Steve is also a visiting Professor in the Department of Soil and Environment at the Swedish University of Agricultural Sciences, Uppsala, where he engages in collaborative research, teaches a course in soil mineralogy to graduate students, and co-supervises Ph.D. students.
Steve is acknowledged as a leading international authority on quantitative clay mineralogy and has twice won The Clay Minerals Society's 'Reynolds Cup'. He has worked on all types of clay minerals and materials, primarily making use of X-ray diffraction. His current JHI research is focused on the development of a soils mineralogical database for Scotland through application of quantitative methods to the National Soils Inventory Scotland (NSIS). This work aims to define and understand relationships between mineralogy and soil properties and functions. The spray drying XRD sample preparation and experimental full pattern fitting methods he has developed make exploring these relationships possible.