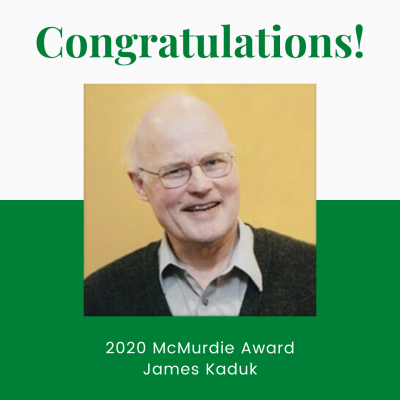 2020 McMurdie Award – James Kaduk
With great pleasure, ICDD® awarded the 2020 McMurdie Award to Dr. James Kaduk of Poly Crystallography, Inc. For over 32 years, Jim has contributed to the quality, content, coverage, and usefulness of the Powder Diffraction File™, including both organic and inorganic entries. His contributions total more than 1000 Powder Difffraction File™ (PDF®) entries. In addition, the quality of the PDF has been enhanced due to Jim's expertise in editing patterns in the database.
Since becoming a member in 1988, Jim has shared his knowledge, expertise, and time with the ICDD in various capacities. For his sustained meritorious service, he was honored in 2001, by being named as an ICDD Fellow and in 2010, he was honored as an ICDD Distinguished Fellow. For lifetime achievement in advancing the use of X-rays for materials analysis, Jim was awarded the 2017 Jenkins Award.  He also served on the Board of Directors as Director-at-Large from 1990-1994 and 1996-2000, as Technical Chair from 2000-2004, as Chair from 2004-2008, and is currently ICDD's Treasurer.
In addition to his role as President and Principal Scientist of Poly Crystallography Inc., Jim is also an Adjunct Professor of Chemistry at the Illinois Institute of Technology and North Central College.