ICDD PDF Databases are Designed to Solve your Material Problems
Welcome 2020 MS&T Attendees
---
Events at the Virtual MS&T Exhibit booth.
Meet us "live" at 12 EST on Monday, 2 November 2020 for ICDD's Webinar "XRD Tutorials with ICDD PDF-4+ and JADE". We will be standing by to answer your questions!

Watch our 30-minute webinar.

Set up a private attendee-exhibitor virtual appointment!
Exclusive Exhibit Hours
Monday, 2 November • 1:00 pm–2:00 pm EST
Tuesday, 3 November • 1:00 pm–2:00 pm EST
Thursday, 5 November • 6:00 pm–7:00 pm EST
Friday, 6 November • 2:30 pm–3:30 pm EST
With our 2021 release of the Powder Diffraction FileTM (PDF®), you are able to view 1,047,661 unique material data sets. Each data set contains diffraction, crystallographic and bibliographic data, as well as experimental, instrument and sampling conditions, and select physical properties in a common standardized format.
The International Centre for Diffraction Data (ICDD®) is a non-profit scientific organization dedicated to collecting, editing, publishing, and distributing powder diffraction data for the identification of materials.
ICDD Newsletters give you timely updates on our products, upcoming events, education opportunities, and more!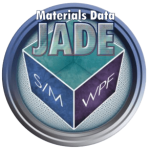 JADE® = Everything you need for XRD Pattern Processing!
PDF Databases – Why We Are The Best!
More data, higher quality, more content, many types of solid state reference data
The world's largest solid state collections of minerals, metals and alloys, polymers, active pharmaceuticals, and commercial materials
The world's largest and most diverse (by formula) collection of inorganic structures
The world's largest collection of modulated structures
Extensive bibliographic collections – thousands of journals, hundreds of thousands of authors
Target your identification; get more accurate results using materials classified by chemistry and application by using the PDF's extensive subfile system
Standardized data, nomenclature, and structural classifications plus brand names, trade names, mineral names, zeolite names, and common names of commercial materials
Search here using chemical name, formula, and elements to find out which ICDD database product is right for you.
Still not sure which database is for you?
See our product comparison chart to help you decide!
We will be happy to review your database and JADE license(s) and provide you with a quote to fit your budget.
or