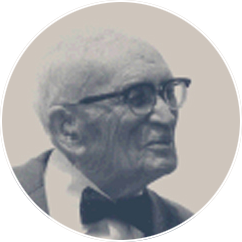 Barrett Awards
Honoring Charles S. Barrett (1902 – 1994)
Charles Barrett was a pioneering X-ray metallurgist who was instrumental in advancing the use of X-ray diffractometry to characterize metals and alloys at the atomic level. He also established a topographic method for evaluations of metals, now known as the Berg-Barrett Method, and authored the classic X-ray diffraction/metallography book entitled "Structure of Metals." He began his career in 1928 when he joined the Metallurgy Department at the U.S. Naval Research Laboratory. Over his career, he contributed his talents to institutions such as Carnegie Institute of Technology, University of Chicago, University of Denver, University of Birmingham, and Oxford University.
The Denver X-ray Conference Advisory Committee established the Barrett Award in 1986 to recognize outstanding contributions to the field of powder diffraction. Named in honor of Charles S. Barrett for his many years of exceptional work in the field, the award is presented biennially in odd numbered calendar years.
Selection Process
The Barrett Award Committee consists of three members; two of the three members are members of the Denver X-ray Conference Organizing Committee (DXCOC).
Each member of the award committee may select as many as three candidates for the award. Each committee member assigns a point value to each candidate, based on his or her selection as first, second, or third choice. The candidate who receives the highest amount of points will receive the award.
Award Presentation
The Barrett Award is presented at the Plenary Session of the Denver X-ray Conference. It consists of a commemorative plaque, detailing the recipient's scientific achievements and contributions to the field of powder diffraction, and a gift of $1,000.
Submission Process
Electronic: Candidates may be submitted to the Chairman of the DXC Award Committee by completing a DXC Awards Nomination Form. In addition to the nomination form, the candidate's curriculum vitae must be sent via email to sjennings@icdd.com or by mail or fax using the contact information below.
Hardcopy: Alternatively, candidates may be submitted to the Chairman of the Selection Committee by mailing a letter of support describing the candidate's major accomplishments relative to the award, signed by the nominator and two others, along with the candidate's curriculum vitae to:
Chairman, DXC Awards Selection Committee
c/o Stephanie Jennings
International Centre for Diffraction Data
12 Campus Boulevard
Newtown Square, PA 19073-3273 USA
Fax: 610.325-9823
Email: sjennings@icdd.com
Submission Deadline
Submissions must be made by 1 October for the next year's award.