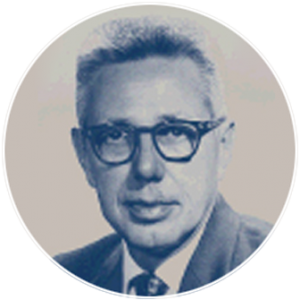 Birks Awards
Honoring LaVerne (Verne) Stanfield Birks (1919 – 1991)
X-ray spectroscopy came into existence and became an important analytical tool due to the work done by LaVerne Birks. Work performed by Verne and Herb Friedman at the Naval Research Lab, and later with Ed Brooks, led to the construction of an important new analytical tool: a wavelength dispersive X-ray spectrometer. Verne also conducted original research to demonstrate the effect surface treatment had on the performance of LiF as an analyzing crystal; assisted in the development of fundamental parameters; demonstrated the importance of excitation efficiency; made use of a vacuum path in place of air to decrease absorption; and conducted environmental studies of air and water using his new X-ray spectrometer.
Further information can be found in the tribute written by John Gilfrich, Verne's friend and colleague.
The Denver X-ray Conference Advisory Committee established the Birks Award in 1986 to recognize outstanding contributions to the field of X-ray spectrometry. The award was named in honor of L. S. (Verne) Birks for his many contributions to the X-ray analysis field. This award is presented biennially, usually in even numbered calendar years.
Selection Process

The Birks Award Committee consists of three members (including the Chair); two of the three members are members of the Denver X-ray Conference Organizing Committee (DXCOC).
Each member of the award committee may select as many as three candidates for the award. Each committee member assigns a point value to each candidate, based on his or her selection as first, second, or third choice. The candidate who receives the highest amount of points will receive the award.

Award Presentation

The Birks Award is presented at the Plenary Session of the Denver X-ray Conference. It consists of a commemorative plaque, detailing the recipient's scientific achievements and contributions to the field of X-ray spectrometry, and a gift of $1,000.

Submission Process
Electronic: Candidates may be submitted to the Chairman of the DXC Award Committee by completing a DXC Awards Nomination Form. In addition to the nomination form, the candidate's curriculum vitae must be sent via email to sjennings@icdd.com or by mail or fax using the contact information below.
Hardcopy: Alternatively, candidates may be submitted to the Chairman of the Selection Committee by mailing a letter of support describing the candidate's major accomplishments relative to the award, signed by the nominator and two others, along with the candidate's curriculum vitae to:
Chairman, DXC Awards Selection Committee
c/o Stephanie Jennings
International Centre for Diffraction Data
12 Campus Boulevard
Newtown Square, PA 19073-3273 USA
Fax: 610.325-9823
Email: sjennings@icdd.com
Submission Deadline
Submissions must be made by 1 October for the next year's award.