Powder Diffraction Journal
Practical techniques •  Published articles relating to applications  •  Latest advances in software
Journal of Materials Characterization
Powder Diffraction is a quarterly journal published by the JCPDS-International Centre for Diffraction Data through the Cambridge University Press. The journal focuses on practical technique, publishing articles relating to the widest range of application from materials analysis to epitaxial growth of thin films and to the latest advances in software. Although practice is emphasized, theory is not neglected, especially as its discussion relates to better understanding of technique.
Cambridge University Press publishes over 280 peer-reviewed academic journals in a wide variety of subject areas. They have over 50 offices across the globe and publish over 40,000 titles by authors from over 100 countries.
Open Access articles, Abstracts, Editorials, and International Reports from Powder Diffraction Journal are available online free of charge at Cambridge Core. A subscription is necessary for articles, including early viewing of FirstView articles. Authors, titles, and page numbers are listed in the Past Issue Pages.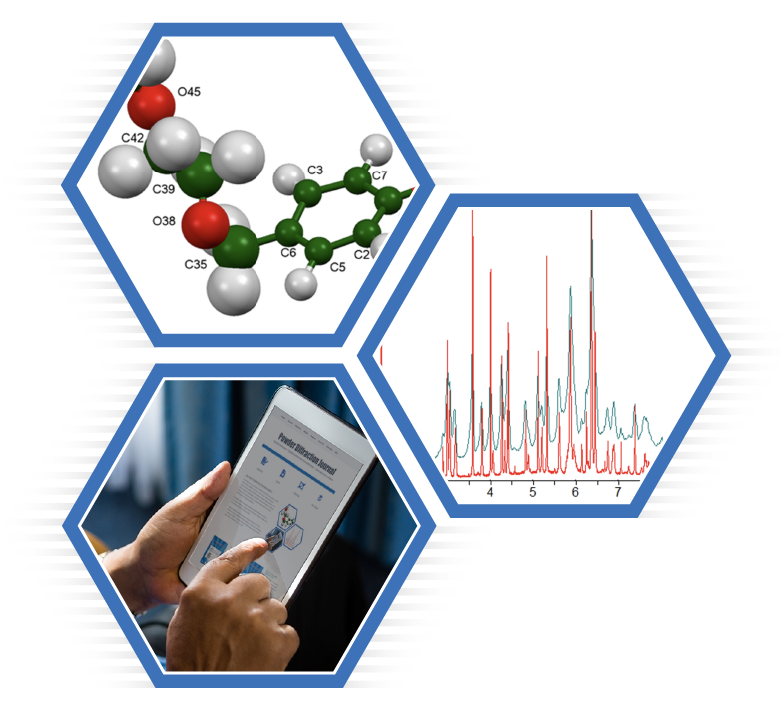 On the Cover: In the manuscript "Crystal Morphology Prediction and Experimental Verification of Venlafaxine Hydrochloride" by C. Liang, et al, it was shown that modeling can be successfully used to predict the influence of solvent effects on crystal habit of venlafaxine hydrochloride. Modeling of habit of the precipitates was based on the modified attachment energy model using molecular dynamics simulation and was supported by showing the differences in the X-ray powder diffraction patterns of the three precipitates compared with the calculated pattern. Further, physical properties of the precipitates from the three solvents were shown to be related with the morphologies of the crystals.
Call for Papers
Do you have an interesting diffraction-related topic for Powder Diffraction Journal?
Submit your idea to our Editor-in-Chief:
Have an interesting compound or diffraction technique you are working on?
Cambridge Core hosts Powder Diffraction Journal​
Cambridge Core is the home of academic content from Cambridge University Press.   Built with users in mind, this online platform has been designed to help readers and researchers to make fast and easy journeys to a vast range of valuable content. They consulted extensively with almost 10,000 users while developing Cambridge Core to make sure they provide a platform that meets the needs of their researchers and customers.
Cambridge Core is the place to find valuable, useful, and inspirational research and academic information. With over 1.6 million journal articles and 36,000+ books, Cambridge Core is the central destination for academic research.
Stay Connected with the XRD Community