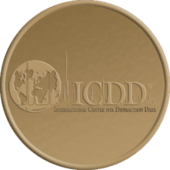 Distinguished Fellow Awards
---
Distinguished Fellow
The designation of Distinguished Fellow is awarded by the ICDD Board of Directors to certain members, currently recognized as Fellows, who have given long and meritorious service to the ICDD.
Selection Process
Nominations are solicited from Fellows and Distinguished Fellows. The Distinguished Fellow Selection Committee, consisting of current Distinguished Fellows and the Awards Committee, reviews the nominations and recommends candidates to the ICDD Board of Directors.
Award Presentation
The Distinguished Fellow Award is presented at the ICDD Annual Meeting of Members in March of each year or a suitable meeting. The award consists of a commemorative plaque, and the recipient's travel expenses to the meeting, in accordance with ICDD's Travel Policy.
Submission Process
ICDD Fellows and Distinguished Fellows may initiate nominations by sending an explanation of why a candidate should be considered for the award to The Corporate Secretary at corpsec@icdd.com. The deadline for initiating a nomination is 1 September. After a nomination is initiated, the Awards Committee Chairman will provide instructions for full nominations, including what to address in the nomination statement and seconds to the nomination. A deadline for completed nominations will be provided.
Chairman, ICDD Awards Committee
c/o The Corporate Secretary
International Centre for Diffraction Data
12 Campus Boulevard
Newtown Square Corporate Campus
Newtown Square, PA 19073-3273 USA
Fax: 610.325.9823
Email: corpsec@icdd.com
Email: awards@icdd.com
NOMINATION INITIATION DEADLINE
Nominations must be initiated by 1 September for the next year's award.
DISTINGUISHED FELLOW AWARD RECIPIENTS