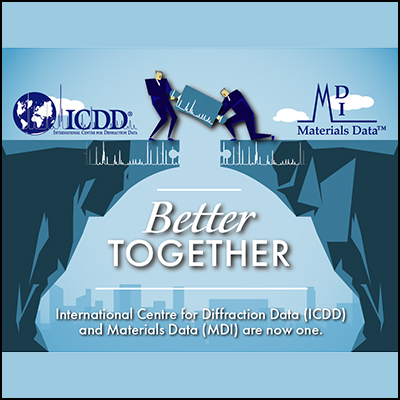 You know us. You trust us. For over 75 years the ICDD® has collected, curated, and carefully edited the important data that we all rely upon to provide answers for our various fields of materials characterization. We scrutinize every data point knowing that this community deserves a standard by which all other diffraction data are measured.
An opportunity to work with a team of like-minded individuals in California arose. Materials Data™, also known as MDI, and the International Centre for Diffraction Data are now one. The ICDD and MDI have worked together in a complementary manner since MDI began in 1987.
Materials Data creates XRD software applications to collect, analyze, and simulate XRD data. MDI is best known for JADE®, which may be found on all continents and in labs wherever X-ray powder diffraction data is explored. MDI software works universally with every manufacturer of XRD equipment to help provide unbiased results.
The team in California will remain intact and continue to operate on the U.S. west coast. Likewise, our operations at ICDD headquarters on the U.S. east coast will continue in place. Already there have been some great collaborations between our offices that we expect will yield exciting developments for the XRD community in the near future.
ICDD and Materials Data are now united and will continue to serve the global XRD community and those who are invested in moving our collective science forward.